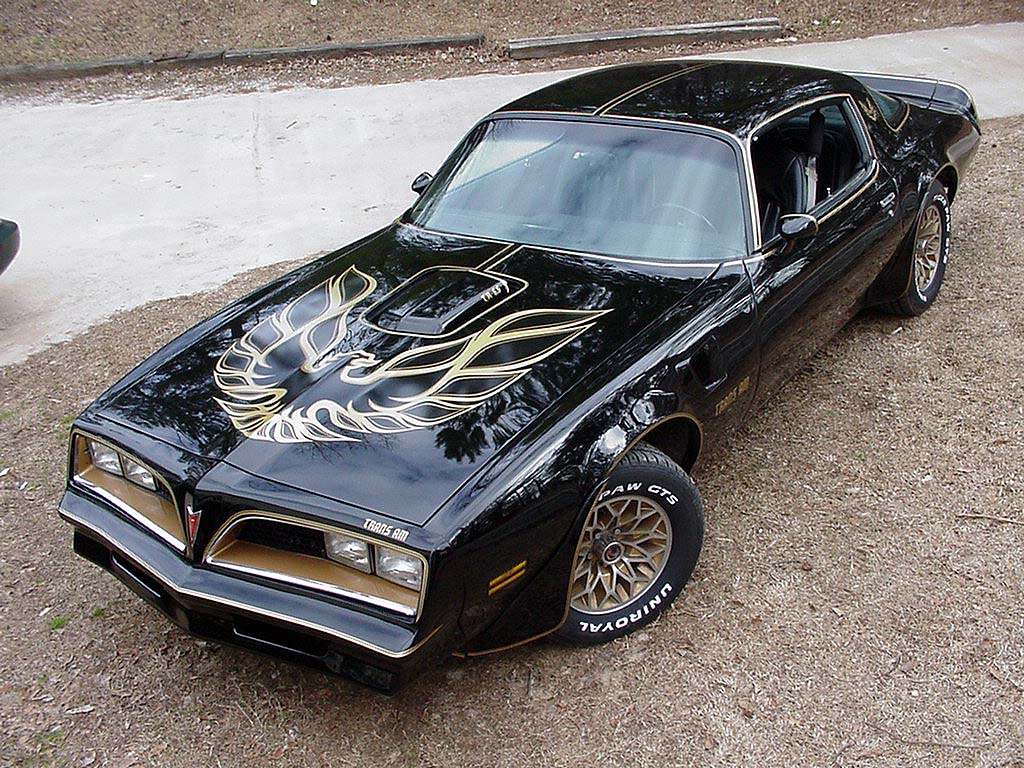 Photo: Allmusclecars.com
I purchased my Special Edition "Bandit" Trans Am in May of '06 by being in the right place at the right time. I was getting ready to head out to Boise, Idaho for my niece's First Communion on a Thursday morning and just before turning in for the night, I thought I would see what was new on eBay. Well how about that, a '78 Black Special Edition appeared. After I read through the info on the car, and looked at the pictures, I scrolled back to the top only to find that the car was, you guessed it, in BOISE. Well, I sent the seller my cell number and asked him to call me the next day when I arrived in Boise. Well, long story short, I saw the car, drove it, looked at the paperwork, and yep, bought it right off the lot.
Specs
CAR NUMBER 103 OF A TOTAL OF 210 PRODUCED
CAR WAS ASSEMBLED IN VAN NUYS, CA AND HAS BEEN GARAGE KEPT ALL OF IT'S LIFE.
280 REAR WHEEL HP AT 3600 RPM
390 FT/LBS TORQUE AT 2200 RPM
4.351 x 3.385 BORE/STROKE
8.5:1 COMPRESSION RATIO
EST'D TOP SPEED – 135 MPH
EST'D 1/4 MILE TIME – LOW 14's.
Factory Options
EXTERIOR: FACTORY ORIGINAL CODE 19 STARLITE BLACK PAINT
INTERIOR: FACTORY ORIGINAL CODE 19N BLACK DOESKIN VINYL
Y84 SPECIAL EDITION PACKAGE WITH GOLD PIN-STRIPPING, GOLD GERMAN GOTHIC LETTERING, BLACK-DARK GOLD-MATTE GOLD DECALS, GOLD ENGINE TURNED DASH, GOLD FORMULA STEERING WHEEL, GOLD TRIMMED HEADLIGHT GRILLES, 15x8 GOLD SNOWFLAKE WHEELS WITH P225/65R15 GOODYEAR EAGLE GT II TIRES, AND FISHER T-TOPS.
WS6 PERFORMANCE SUSPENSION
A/C (COMPRESSOR REMOVED)
POWER WINDOWS
14:1 VARIABLE RATIO POWER STEERING
DISC FRONT BRAKES
KENWOOD 200 WATT AM/FM/CD WITH KENWOOD REAR DECK SPEAKERS
MIDLAND CB RADIO
Mods
ENGINE: L80 403 C.I. V-8 WITH ISKY 256 SUPER CAM, 692 HYDRAULIC LIFTERS & BADGER PISTONS
CARBURETOR: 4-BARREL ROCHESTER QUADRAJET WITH ROCHESTER INTAKE
HEADS: 1972 OLDS 350 5-ANGLE PORT, POLISHED & MILLED
TRANSMISSION: GM TH350 HYDRAMATIC 3-SPEED AUTOMATIC WITH SHIFT KIT
TORQUE CONVERTER: B&M HOLESHOT 2400 WITH 2300-2500 RPM STALL
DIFFERENTIAL: RICHMOND 3.42 GEARS WITH MOSER PRO SERIES POSI UNIT AND MOSER PRO SERIES 28 SPLINE SOLID AXLES
EXHAUST: DUAL FLOWMASTER SUPER 40 TWO CHAMBER HIGH PERFORMANCE MUFFLERS WITH STAINLESS STEEL SPLITTER EXHAUST TIPS
source:
musclecarsociety